Campus Recreation Announces
Spring 2021 Facility Hours Begin Monday, January 18th
Campus Recreation will begin Phase 2.5 modified hours beginning on Monday, January 11th.  Access will continue to be limited to current students, faculty, and staff, and appointments will be required for use of all programs, including the Fitness Center.  See below for details.
Student Recreation Center (SRC) and Sherrill Fitness Center Information & Service Desk
Monday – Friday; 7 a.m. – 8 p.m.
Saturday & Sunday; 10 a.m. – 5 p.m.
SRC Administrative Offices
Monday – Friday; 9 a.m. – 5 p.m.
Remember: appointments are required for all activities and programs, including all outside programs. You must be a current student, faculty, or staff member and follow these instructions to reserve your space for all programs.
General Info for Spring 2021
We are offering modified programs in Aquatics, Fitness & Instruction, Intramural Sports, and Outdoor Programs, as well as specialty programs this semester! Please find the program that you're looking for in the menu for more details. Know before you go – please review important information regarding facility use before coming to the Student Recreation Center (SRC). We are still offering some special programs and events – those can be found on our Special Programs page.
Vulnerable Populations
We have a number of appointment times that are open to serve vulnerable populations within our campus community. Vulnerable populations include but are not limited to: those who are immunocompromised, with underlying medical conditions, ages 50 and older, underinsured, socioeconomically disadvantaged, and racial and ethnic minorities. We ask that only vulnerable members of the campus community sign up for sessions designated for vulnerable populations.
Outdoor Track and Intramural Fields
The Karl Straus Track will have limited access from 6 a.m. until 10 a.m. each morning for both UNC Asheville and the broader Asheville community.  After 10 a.m., the track will be closed to the public.  UNC Asheville Outdoor fields are not available for public use at any time.  This public schedule will allow the university to move its campus recreation and some intercollegiate athletic operations outdoors throughout the day.
UNC Asheville appreciates the community's understanding and cooperation during this time.
Phase 2.5 Block Scheduling and Hours of Operation
Appointments are required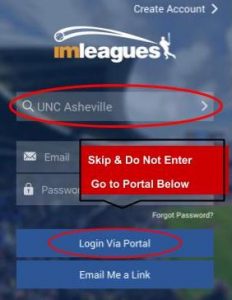 Appointments are required for use of all Campus Recreation programs, facilities, and services, so make sure to sign-up for an appointment.  
Detailed information on how to sign up and use the app or web-based appointment system is available here.
Face Coverings and Exercise

Face coverings are required at all times in the facility, including during exercise. Please review Tips for Proper Wearing of Face Coverings if you have concerns before joining any campus recreation program or class.
Healthy Campus Initiative and Student Health Ambassadors
We are still offering faculty/staff preferred classes as a part of the Healthy Campus Initiative. These classes are listed on the fitness grid and you must register using our new scheduling app.We are also excited to partner with the Student Health Ambassadors, who are engaged with peer education on establishing a culture of wellness and safety, with a goal of reducing the likelihood of COVID-19 transmission on campus. Ambassadors will work as part of teams to engage in COVID-19 response, education, communication, and student support, which includes teams focused on mental and emotional wellbeing and physical activity.