Fall 2021 BINGO
October 1st – October 31st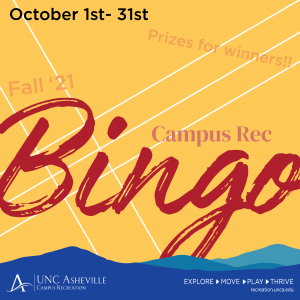 Join the Campus Recreation BINGO Challenge, hosted every semester.
BINGO Guidelines:
BINGO Cards can be picked up at the SRC Customer Service Desk in the Student Recreation Center or printed from the link above. 
Participants will be responsible for checking-in, making sure they are marked as "attended" in IMLeagues, and record the session date on the BINGO Card. All completed BINGO cards will be cross-referenced with IMLeagues attendance. All photo posts and usernames used for BINGO must be appropriate to be eligible for completion.
For every BINGO (5 spaces consecutively across, diagonal, or vertical), up to three BINGO's, you'll receive one entry into the general raffle. For a Blackout BINGO card, you will receive 5 entries into the raffle. Only one BINGO card can be turned in per participant. Participants cannot enter the raffle for a specific item – prizes will be on a first drawn basis.
Your completed BINGO card must be turned in with all information above filled out by 7pm on October 31st. You can turn this in as a physical copy to the SRC Customer Service Desk or scanned via email to recreation@unca.edu with subject line 'Fall '21 BINGO".
The raffle drawing will happen via Instagram Live from the Campus Recreation Instagram (@unca_campusrec) on November 1st @ 3pm. All winners will be notified via email and have 24 hours to claim their prize. Prizes can be picked up by participants at the Student Recreation Center starting on November 2nd.