Reading Relaxation Day 2022
Wednesday, April 27

Join Campus Recreation, Highsmith Student Union, and Health and Counseling for a full day devoted to rest, relaxation, and rejuvenation. Check out the full schedule below. Come join us for some self-care and time devoted to unwinding as we dive into the end of the Spring semester. 
Reading Relaxation Day (11:30 AM – 1:30 PM, Reed Plaza)
Morning Yoga Flow (10:45 AM – 11:45 AM, SHE 306)
Slacklining, Corn Hole, Yard Games (12:30 PM – 2:30 PM, The Quad)
Afternoon Yoga Flow (4:00 PM – 5:00 PM, The Quad)
---
Bingo Spring 2022
March 21th – April 22nd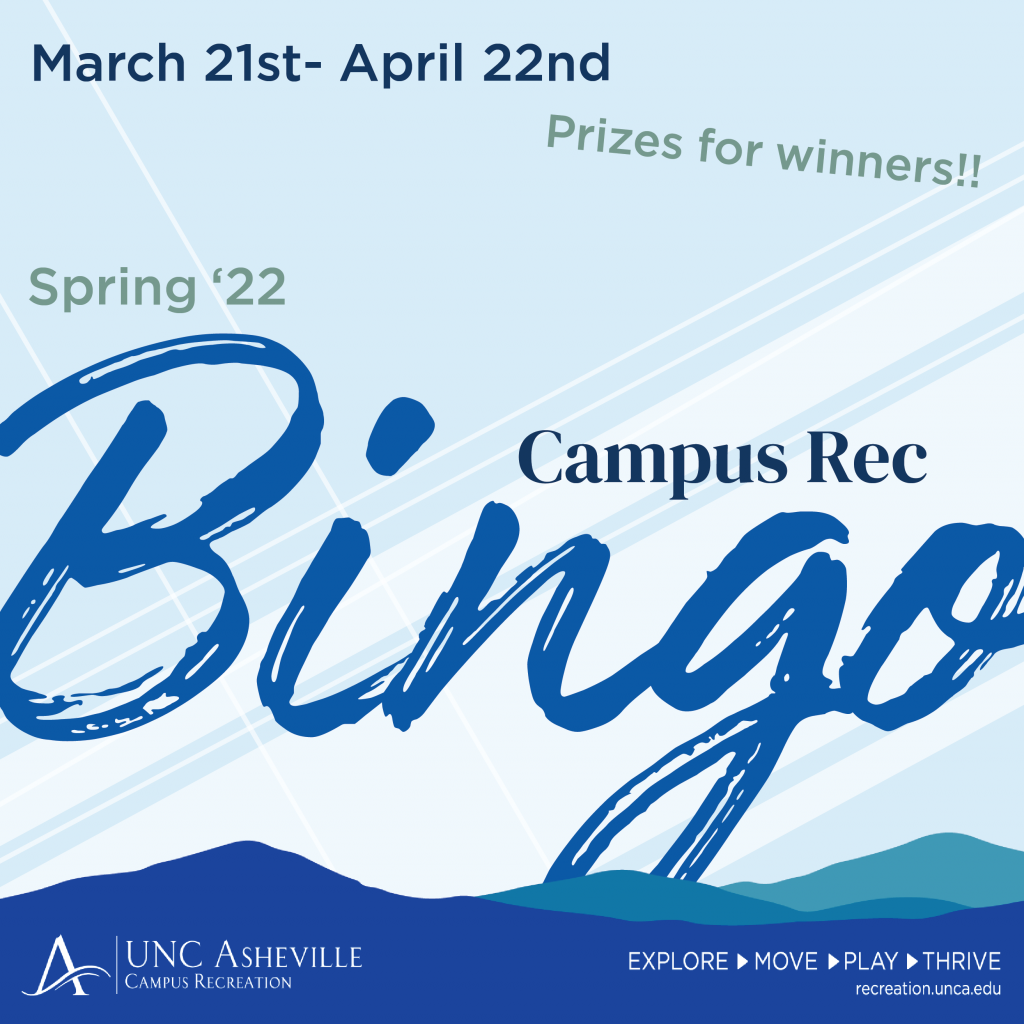 Make time for self care and wellness as the semester ends with the Campus Recreation Bingo Challenge! Print your card here or pick one up at one of our desks. BINGO Guidlines are below!
BINGO Cards can be picked up at the SRC Customer Service Desk in the Student Recreation Center or printed from the Campus Recreation website (recreation.unca.edu). 
Participants will be responsible for checking-in, making sure they are marked as "attended" in the Campus Rec App, and record the session date on the BINGO Card. All completed BINGO cards will be cross-referenced with the Campus Rec App attendance. All photo posts and usernames used for BINGO must be appropriate to be eligible for completion.
For every BINGO (5 spaces consecutively across, diagonal, or vertical), up to three BINGO's, you'll receive one entry into the general raffle. For a Blackout BINGO card, you will receive 5 entries into the raffle. Only one BINGO card can be turned in per participant. Participants cannot enter the raffle for a specific item – prizes will be on a first drawn basis.
Your completed BINGO card must be turned in with all information above filled out by 8pm on April 22nd. You can turn this in as a physical copy to the SRC Customer Service Desk or scanned via email to recreation@unca.edu with the subject line 'Spring '22 BINGO".
The raffle drawing will live on Instagram on April 26th at Noon. Please be sure to bring your OneCard to Reading Relaxation Day on April 27th at Reed Plaza between 11:30 AM – 1:30 PM for redemption or you can pick up your prize from the SRC at a later date.