To best meet the needs of our students and campus community, Campus Recreation facilities, classes, and activities, will only be available for currently registered students, faculty, and staff.  OLLI, Alumni, Spouses/Dependents, and Affiliate members, as well as Guests, can find more information by visiting COVID-19 Modifications.
Whether you're just showing up or showing off, Intramural Sports is for you! Play against your neighbor, someone in your chemistry lab, or maybe even the Chancellor all while having fun, staying active, and making friends. Intramural Sports provide UNC Asheville students, faculty, and staff an opportunity to participate in a variety of leagues, tournaments, and special events. Participation in each event is free! All league winners receive a coveted Intramural Sports Championship t-shirt as well as bragging rights on campus.
Participant Regulations and Registration
All Intramural Participants must register online!
Online Registration Instructions
Participant Policies and Procedures
Rec Recess
Intramural Sports is currently hosting Recreation Recess every Friday! This is just one way for you to play outside this semester. Some activities that happen at Rec. Recess include: Corn Hole, Kan Jam, Lawn Darts, Disc Golf, Croquet, Bocce Ball, and more. Recess' are in different locations around campus and offer different activities at each location.  For an up-to-date schedule and to sign up go to imleagues.com. Make sure to wear a face covering and stay socially distant!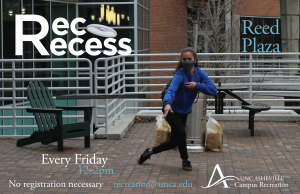 Campfires and Cornhole
Campfires and Cornhole is a collaboration between Intramural Sports, Outdoor Programs, and Residential Education. These events happen every Wednesday night from 5 p.m. to 6:30 p.m. at different res halls across campus and are always free, open to drop ins, and often have s'mores!
February 24th: Governors Courtyard
March 3rd: Mills Plaza
March 10th: Ridges Courtyard
March 17th: Founders
March 24th: Beech & Magnolia Courtyard
March 3rd: Ponder
April 7th: Governors Courtyard
April 14th: Founders
April 21st: Ridges Courtyard
Tournament Thursdays
Tournament Thursdays is a new intramural offering allowing you to compete with little commitment in one day tournaments. The deadline to register to participate will be the night before the event at 11:59pm, with the exception of Capture the Flag and Poker Night, registration is not necessary. Winners of these event will receive the coveted Intramural Champion t-shirts.