To best meet the needs of our students and campus community, Campus Recreation facilities, classes, and activities, will only be available for currently registered students, faculty, and staff.  OLLI, Alumni, Spouses/Dependents, and Affiliate members, as well as Guests, can find more information by visiting COVID-19 Modifications. Remember, appointments are required for all classes, programs, and facility use through our scheduling app!
FALL BREAK HOURS BEGIN OCTOBER 1ST – OCTOBER 5TH
Fall Semester Hours of Operation (August 15th – November 30th)
FALL 2021 RESERVATIONS:
Don't forget to reserve a spot! Get a glance of all our reservation blocks for the semester and visit IMLeague for detailed session times and to reserve your spot.  Make sure you activate your IMLeague account following our detailed instructions – you must log in via the portal.
Check out our At-A-Glance Session Blocks for the semester!
Student Recreation Center and Sherrill Fitness Center
Monday-Friday:  7:00 AM – 9:00 PM
Note: Activity spaces will be closed from 2 PM – 3 PM for additional cleaning Monday-Friday
Saturdays:  9:00 AM – 3:00 PM
Sundays:  1:00 PM – 7:00 PM
Justice Pool  (Access through Student Recreation Center)
Weekdays
Mornings:  Monday/Wednesday/Friday: 7:30 AM – 8:30 AM
Mid-Day:   Monday – Friday:   Noon – 1PM
Evenings:   Monday/Tuesday/Thursday/Friday:  5:30 PM – 7:00 PM ; Wednesday:  5:00 PM – 6:30 PM
Weekends
Saturday:   11:00 AM – 1:00 PM
Sunday:    3:00 PM – 5:00 PM
Outdoor Gear Rental Center  (Student Recreation Center)
August 30th – November 29th
Mondays & Fridays: 1:00 PM – 4:00 PM
Bike Shop  (Located on the backside of Highsmith Student Union)
August 31st – November 30th
Tuesdays & Thursdays: 12:00 PM – 3:00 PM
Straus Track
All Group Use Requires a Reservation and/or Rental at all times
Students/Faculty/Staff:
Dusk to Dawn unless closed or in-use for a Reservation
General Public:
Individual Users: 6:30 AM – 10:00 AM
Group Use: Requires a Reservation
The Karl Straus Track will have limited access from 6:30 a.m. until 10 a.m. each morning for both UNC Asheville and the broader Asheville community.  After 10 a.m., the track will be closed to the public.  UNC Asheville Outdoor fields are not available for public use at any time.  This public schedule will allow the university to move its campus recreation and some intercollegiate athletic operations outdoors throughout the day.
UNC Asheville appreciates the community's understanding and cooperation during this time.
Intramural Field
All Group Use Requires a Reservation and/or Rental at all times
Students/Faculty/Staff:
Dusk to Dawn unless closed or in-use for a reservation
General Public:
Closed to the general public without a reservation
Disc Golf Course
Dusk to Dawn
Residence Hall Satellite Fitness Centers
Located in Chestnut Hall (The Woods) & Governor's Hall Annex
Available only to students living on-campus
Use OneCard for access anytime
Holidays/Late Openings/Early Closures
Labor Day – September 6, 2021 
10 AM – 7PM
The Pool will be closed
Remember: appointments are required for all activities and programs, including all outside programs. You must be a current student, faculty, or staff member and follow these instructions to reserve your space for all programs.
Appointments are required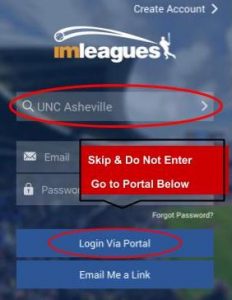 Appointments are required for use of all Campus Recreation programs, facilities, and services, so make sure to sign-up for an appointment.  
Detailed information on how to sign up and use the app or web-based appointment system is available here.
Face Coverings and Exercise

Face coverings are required at all times in the facility, including during exercise. Please review Tips for Proper Wearing of Face Coverings if you have concerns before joining any campus recreation program or class.