Important Participant & Safety Information
Please note that until further notice, all Campus Recreation programs, services, and facilities will only be available to currently enrolled students, faculty, and staff of the UNC Asheville Community.
Before You Arrive:
All students, faculty, and staff must reserve an appointment time for all UNC Asheville Campus Recreation programs and services through our new appointment app. Please use this document for detailed information on how to sign up and use the app or web-based appointment system.  Currently enrolled students, as well as faculty and staff at UNC Asheville, all have access to Campus Recreation facilities and some programs at no additional cost.  Certain programs, such as trips, rental gear, personal training, and instructional classes may have costs associated with these programs and special registration steps.  These programs will be phased in starting in late August and September as deemed according the State of North Carolina Reopening plan and UNC Asheville.  More updates will be available soon.
Please bring your OneCard to check-in for your appointments at the SRC service desk for pool access and at the designated outdoor location for any outside scheduled classes and programs. You may check-in up to 10 minutes prior to the start of your appointment. If you are unable to keep your appointment, please cancel your appointment in IMLeagues/UNCA at least 1 hour prior to your appointment time so other patrons may utilize your space. Failure to cancel appointments and no-shows may result in loss of privileges to make appointments. Your appointment time will be held for your arrival up to the mid-way point of the appointment block. At that time, we will note you as a no-show and you will forfeit the remainder of your appointment time. This allows us to serve other patrons who may be on a wait list.
Don't forget to bring a water bottle and your own workout towel. Touchless water fill stations are available in the Student Recreation and Sherrill Centers, however, the water fountains will not be accessible. Please take care of as many personal needs as possible at your own private residence. Don't forget to wear your face covering! Please leave all valuables at home. Also, please note that self-screening symptom checks will be required at check-in.
FALL 2021 RESERVATIONS:
Don't forget to reserve a spot! Get a glance of all our reservation blocks for the semester and visit IMLeague for detailed session times and to reserve your spot.  Make sure you activate your IMLeague account following our detailed instructions – you must log in via the portal.
Check out our At-A-Glance Session Blocks for the semester!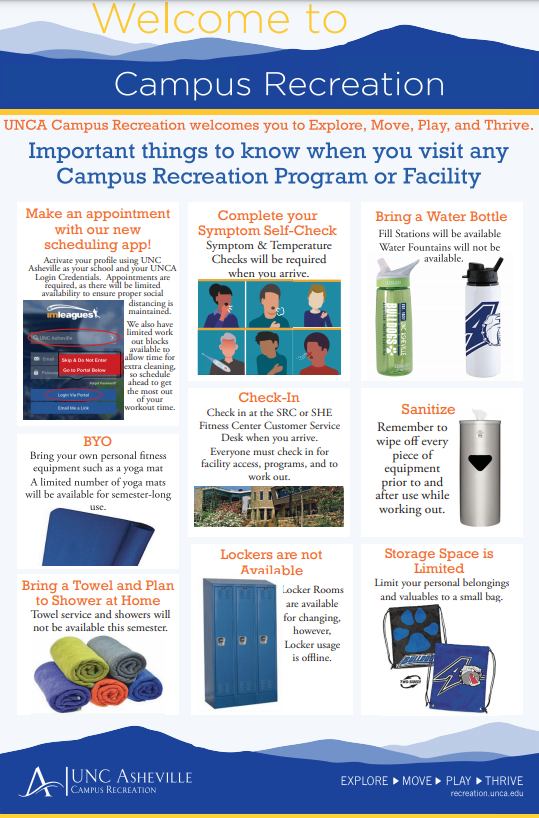 When You Arrive:
Please complete your own self-symptom screening upon your arrival and review our Updated Fitness & Studio Policies.  We will then check you in using your OneCard. You may wait in our lobby or cueing area until we are ready for you to access the area. Each reservation block has a maximum number of spaces available based on safe social distancing guidelines for physical activity. All patrons will be expected to wash and sanitize hands prior to entering the program area. Face coverings are required to be worn in all Campus Recreation programs, both indoors and outside.
While You're Here:
Please note that towel service will not be available.  Patrons may use the locker rooms to change.  Face coverings are required to be worn in all Campus Recreation programs, both indoors and outside. Patrons must wear a face covering in locker rooms to the pool deck. They are not required while in the pool.  All patrons will be expected to wash and sanitize hands prior to entering the program area and are expected to wipe off all equipment before and after use with disinfectant wipes provided by Campus Recreation. One gym bag or backpack  may be brought to the program area.  We will not be checking out any equipment from the SRC desk, however, kickboards, pull buoys, and aqua belts will be available for use on the pool deck.  Please bring your own personal gear. Thank you for adhering to our community expectations to prevent the spread of COVID-19.
Restricted Access
The Karl Straus Track will have limited access from 6 a.m. until 10 a.m. each morning for both UNC Asheville and the broader Asheville community.  After 10 a.m., the track will be closed to the public.  UNC Asheville outdoor fields are not available for public use at any time.  This public schedule will allow the university to move its campus recreation and some intercollegiate athletic operations outdoors throughout the day.
We apologize for any inconvenience this may cause and we would like to thank you for understanding our need to reduce occupancy limits. It is our goal to ensure adequate social distancing at all times, provide priority use to our students, and to minimize the spread of COVID-19 on the UNC Asheville campus. All current individual memberships purchased through OLLI, the UNC Asheville Alumni Office, and Campus Recreation for spouses/dependents of currently enrolled students, faculty, and staff, or affiliates, will be automatically extended based on the number of months you had remaining in your membership, as of March 1, 2020.  These months will be added to the date in which we are able to reopen our operations to the broader community. Members who prefer a refund may contact the appropriate office (OLLI, the UNC Asheville Alumni Office, or Campus Recreation) based on your affiliation to the university for assistance. At this time we are not conducting any new guest or membership sales.